Recommended Global Ophthalmology Webinars & Conferences
Asia Pacific & Middle East
Ophthalmologists 2023
Welcome Message
To know the ropes of ophthalmic disorders we welcome you to 23rd Global Ophthalmologists Annual Meeting which is going to be held on March 17-18, 2023 in Prague, Czech Republic. Ophthalmologists 2023 goal is to give surgeons, opticians, young researchers, and students a large platform to share their knowledge and opinions about the Digital Revolution, developments in the field of ophthalmology, the treatment of various eye diseases, and the risks and ease of various surgeries like cataract ,myopia , Keratoplasty and Bloch-Sulzberger syndrome.
A doctor who has completed specialist training in both medical and surgical eye care is called an ophthalmologist. Ophthalmology specialists must do extra postgraduate residency training in that discipline after receiving their medical degrees. A one-year integrated internship that includes more general medical training in other specialties, including internal medicine or general surgery, may be part of this.
The conference is the ideal venue for sharing knowledge, fostering industry-academia collaborations, and assessing emerging technologies around the world because it brings together a distinctive and international mix of large and medium pharmaceutical, biotech, and diagnostic companies, top universities, and clinical research institutions.
About Conference
According to World Health Organisation, Currently, there are at least 2.2 billion vision impairments worldwide, of which at least 1 billion could have been avoided or have not yet been remedied. The lack of educated eye care professionals, discrepancies in the coverage and quality of prevention, treatment, and rehabilitation services, and the inadequate integration of eye care services into health systems are just a few of the many difficulties the world faces when it comes to eye care.
The specialised area of medicine known as ophthalmology is dedicated to eye health. It covers the physiology, anatomy, and disorders that could impact the eyes. A medical or osteopathic doctor with a focus on eye and vision treatment is known as an ophthalmologist. Ophthalmologists 2023 provide platform to ophthalmologist, Scientists, Doctors, Academician, Researchers, Students, Business Entrepreneurs, Medical colleges, Ophthalmology Societies & Associations, Medical & Pharmaceutical Companies, Medical devices & companies, others to discuss the new advancement in the field of ophthalmology and limelight their work globally.
The meeting is open to the speakers, researchers working on a variety of ophthalmology illnesses related to the eyes. Highlights of this meeting include the most recent data on diseases, procedures, preventions, etc. as well as the most anticipated redesigns in the field of ophthalmology.
Why to attend?
Discover the best in cutting-edge research.
Worldwide recognition of the researcher's profile.
Earn credits for professional development.
Your appearance and speech will be captured and posted on YouTube.
This ultimately could add worth to your research profile.
Establish Long-Lasting Relationships at Social and Networking Events.
We offer a singular convergence of networking, learning, and fun.
An opportunity to contribute a single-page ad in an abstract book.
Distribution of fliers that finally receives 1 million views and adds greatly.
Your study profile will benefit.
Whom to Attend?
Scientists
Doctors
Academician
Researchers
Students
Business Entrepreneurs
Medical colleges
Ophthalmology Societies & Associations
Medical & Pharmaceutical Companies
Medical devices & companies
Others
Sessions/Tracks
Track 1: Ophthalmology
The study of eye-related medical disorders is known as ophthalmology. Ophthalmologists are medical professionals that focus on the surgical and medical care of this organ. Ophthalmologists treat eye conditions with drugs, laser therapy, and surgery if necessary. Primary and specialised medical and surgical eye care are also offered by ophthalmologists.
Paediatric ophthalmology
Clinical Ophthalmology
Infant vision
Eye Health
Track 2: Optometry
Optometry is a healthcare profession that is independent, educational, and regulated (licensed/registered). Optometrists are the primary eye and visual system healthcare providers who offer comprehensive eye and vision care, including refraction and dispensing, detection/diagnosis and management of eye disease, and the rehabilitation of conditions of the visual system.
Optical coherence tomography
Slit lamp examination
Amblyopia
Visual processing
Development of the visual system
Computer vision syndrome
Track 3: Bloch-Sulzberger syndrome
Bloch-Sulzberger syndrome, sometimes referred to as incontinentia pigmenti (IP), is a rare X-linked dominantly inherited condition that manifests at birth or in infancy. Eye problems, especially affecting the retina, are also included in it. Vascular occlusion is the cause of the retinal abnormalities, which also include exudative and tractional retinal detachments, haemorrhages, and neovascularization.
Genetic diseases
X chromosome
Pigmentation disorders
Track 4: Keratoplasty
Keratoplasty involves surgery to replace a portion of your own cornea with donor corneal tissue. The clear, dome-shaped cornea makes up the surface of your eye. It is where light enters your eye and plays a significant role in your eye's capacity for sharp vision.
Penetrating keratoplasty
Endothelial keratoplasty
Anterior lamellar keratoplasty
Artificial cornea transplant
Track 5: Corneal ectasia
A collection of rare, non-inflammatory eye conditions known as corneal ectatic disorders or corneal ectasia are characterised by bilateral corneal thinning in the central, paracentral, or periphery. When the inner layers of your cornea weaken, it can alter form, thrust forward, and cause vision distortions, which is known as corneal ectasia.
Laser in situ keratomileusis
Intracorneal ring segments
Contact lenses
Track 6: Immunosuppressive therapy
Immunosuppressive drugs prevent the immune system from harming healthy tissues and cells. These medications are used by recipients of stem cell and organ transplants to reduce the risk of transplant rejection. As an alternative to or in addition to corticosteroids, immunosuppressive medications are being utilised more frequently to treat ocular inflammation.
Immunosuppressive agents
Uveitis
Periocular corticosteroids
Intraocular corticosteroids
Track 7: Corneal refractive surgery
A surgical treatment called refractive surgery is used to rectify the eye's refractive error (spectacle power). Usually, it is done to reduce or do away with the need for glasses and contact lenses. After the age of 18 to 21, it can be done on a patient with steady refraction.
Anterior segment Optical Coherence Tomography
Photrefractive Keratectomy
Refractive Lenticule Extraction
Track 8: Cataract
A cataract is a hazy spot in the eye's lens that causes vision to deteriorate. Cataracts can harm one or both eyes and frequently progress slowly. Symptoms can include halos surrounding lights, faded colours, fuzzy or double vision, problems with bright lights, and difficulty seeing at night.
Nuclear cataracts
Cortical cataracts
Posterior subcapsular cataracts
Congenital cataracts
Track 9: Myopia
Myopia, a common visual disease known as near-sightedness, causes fuzzy vision for items that are far away but clear vision for nearby objects. It happens when light rays improperly bend (refract) due to the shape of your eye, focussing images in front of your retina rather than on your retina.
Astigmatism
High myopia
Degenerative myopia
Track 10: Hypermetropia
Other names for hypermetropia include hyperopia, long-sightedness, and far-sightedness. The eye disease known as hypermetropia is characterised by the formation of an image of a close object behind the retina. Instead of focusing on the retina in this instance, the light is concentrated behind the retina.
Total hypermetropia
Latent hyperopia
Manifest hyperopia
Track 11: Presbyopia
The gradual decrease of your eyes' capacity to focus on adjacent things is known as presbyopia. It's a normal, frequently frustrating aspect of becoming older. Early to mid-40s is often when presbyopia first becomes apparent, and it gets worse until about age 65.
Corneal inlays
Bifocals, trifocals or progressive Lenses
Multifocal contacts
Track 12: Neurodegenerative disease
A condition when the central nervous system's cells degenerate or stop functioning. In most cases, there is no therapy for neurodegenerative diseases, which often worsen with time. They could develop due to a tumour or stroke, or they might be inherited. Glaucoma, which has a neurodegenerative illness of both the eye and the brain, is characterised by progressive optic nerve degeneration.
Glaucoma
Diabetic retinopathy
Retinitis pigmentosa
Track 13: Ocular neovascular disease
There are various ocular disorders that cause neovascularization within the eye, the most prevalent of which are proliferative diabetic retinopathy, neovascular age-related macular degeneration, and retinopathy of prematurity.
Proliferative diabetic retinopathy
Neovascular age-related macular degeneration
Retinopathy of prematurity
Track 14: Retinoblastoma
Retinal cancer is called retinoblastoma. The light-sensitive lining in the back of the eye is called the retina. Retinal eye cells expand swiftly in the early stages of a baby's development and then halt. Retinoblastoma is a type of cancer that only occasionally results from one or more cells continuing to grow.
Congenital (heritable) retinoblastoma
Germline mutation
Bilateral retinoblastoma
Multifocal retinoblastoma
Track 15: Ptosis evaluation
The term "blepharoptosis," also known as "ptosis of the eyelid," refers to the upper eyelid drooping, which typically happens as a result of a congenital or acquired dysfunction of the muscles that elevate the eyelid. Ptosis could be the first indication or symptom of a significant neurologic condition.
Aponeurotic ptosis
Myogenic ptosis
Neurogenic ptosis
Mechanical ptosis
Traumatic ptosis
Track 16: Corneal ablation
One of ophthalmology's most cutting-edge and developing subspecialties is still refractive surgery. With the introduction of tailored ablation, a paradigm shift has occurred: the main objective of refractive surgery is now to enhance or at the very least prevent degradation of the optical performance of the eye, rather than just do away with spectacles.
AMARIS laser system
Advanced Surface Ablation
Dry eye
Track 17: Acanthamoeba keratitis
Acanthamoeba keratitis is a rare but deadly eye infection that can cause blindness or permanent vision loss. When Acanthamoeba infects the cornea, the clear outer layer of the eye, it known as Acanthamoeba keratitis.
Iris atrophy
Scleritis
Anterior uveitis
Track 18: Propionibacterium
Mesophilic, nonmotile, nonspore-forming, and anaerobic to aerotolerant bacteria are known as propionibacterium. They are pleomorphic rods. Due to their heterofermentative nature, they may metabolise lactate, pyruvate, polyols, and carbohydrates into a combination of propionate, acetate, succinate, and carbon dioxide.
Microdissection
PCR
Postoperative endophthalmitis
Track 19: Prostaglandins on uveoscleral outflow
It is widely acknowledged that prostaglandins (PGs) raise uveoscleral outflow, which lowers intraocular pressure. Interest in the uveoscleral outflow has grown as PGs are increasingly used to decrease intraocular pressure. Uveoscleral outflow travels to the posterior pole of the eye via the suprachoroidal space after passing via extracellular gaps in the ciliary muscle.
Intraocular pressure
Prostaglandins
Matrix metalloproteinases
Track 20: Argon laser trabeculoplasty
Argon Laser Trabeculoplasty is the most popular kind of laser procedure used to treat open-angle glaucoma. The goal of the procedure is to aid in the drainage of eye fluids and lower intraocular pressure, which can harm the optic nerve and result in blindness.
Hyphema Glaucoma
Unilateral Glaucoma
Uveitic Glaucoma
Phacomorphic Glaucoma
Malignant Glaucoma
Juvenile Glaucoma
Track 21: Subretinal hemorrhage
Subretinal hemorrhage is an accumulation of blood between the neurosensory retina and the Retinal Pigment Epithelium (RPE) arising from the choroidal or retinal circulation.
Scotoma
Metamorphopsia
Retinal Artery Macroaneurysm
Track 22: Acute demyelinating optic neuritis
It is characterised by abrupt, unilateral reduced vision, optic nerve dysfunction (decreased colour vision, decreased contrast/brightness perception, RAPD), and periorbital discomfort that gets worse with eye movement.
Demyelination
Optic neuritis
Multiple sclerosis
Market Analysis
The size of the global ophthalmology market is predicted to be USD 52.07 billion in 2020, USD 55.28 billion in 2021, and USD 81.05 billion by 2027, growing at a CAGR of 6.52%. The most typical ocular disease that can appear at any time with Covid-19 infection has been named as conjunctivitis. In order to limit the impact of disorders that might endanger life and vision, ophthalmologists should get pertinent patient history information, search for particular symptoms, and provide suitable diagnostic testing.
There are more over 12,000 ophthalmologists in the world, according to estimates. Few ophthalmic problems and the Covid infection caused the market size to remain stable during the pandemic. The growth rate is likewise unaffected and is anticipated to be profitable within the anticipated time frame.
The ophthalmology device market in Europe will be worth $9.34 billion in 2022, according to current estimates. It was projected to expand at a strong CAGR of 5.6% from 2022 to 2027, reaching USD 12.26 billion.
Greater prospects in the ophthalmic device market were produced by the growing elderly population and eye disorders, which raised the need for surgical equipment for cataract, glaucoma, refractive, and other conditions. It is anticipated that the rise will continue in the years to come thanks to quick gadget approvals and rising illness awareness.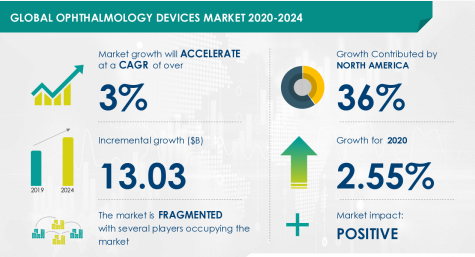 World's Top 10 Eye care Companies:
Alcon
EssilorLuxottica
Johnson & Johnson Vision
Bausch + Lomb
Hoya Corporation
Carl Zeiss AG
CooperVision
Topcon
NIDEK CO., LTD.
Glaukos Corp
To Collaborate Scientific Professionals around the World
Conference Date May 17-18, 2023
For Sponsors & Exhibitors
Useful Links
Past Conference Report