Day 3 :
Keynote Forum
LK Diabetes Centre, India
Time : 10:10-10:50
Biography:
Triply post graduate in Medicine (MD), Nutrition (PGDND) and Radiology (DMRE), 64 years old Dr. Lakshmi K Shankhdhar, holds the credit of establishing North India's still only exclusive Diabetes Clinic in Lucknow, India and is the fourth Indian to receive Wockhardt-Harvard Medical Excellence Award and Visiting Fellowship of Harvard Medical International, the International Arm of Harvard Medical School (Boston). He has presented several abstracts and Faculty orations in many International conferences on Diabetes, besides chairing some International conferences. Currently he is Principal of a medical College of Diabetology, besides working as Medical Director and Endocrinologist in his own Clinic, the LK Diabetes Centre.
Abstract:
Ninety percent amputations are preceded by an ulcer and most are preventable. Increased plantar foot pressure is the leading cause of plantar ulceration in the diabetic population. While one is standing, both feet bear 50% of body weight but during walking, there are times when one foot bears even 1.5 times of body weight which is further increased if deformity were present. Small muscle atrophy, with consequent muscle weakness and deformity, occurs in the diabetic foot before clinical peripheral neuropathy is detected. This muscle atrophy may lead to increased plantar foot pressure even in the "low-risk," sensate diabetic feet. Many factors such as deformity, partial amputation, limited Joint mobility (LJM), calluses, corns, wrong footwear and a foreign body in the foot wear may be responsible for raised plantar pressure and plantar ulceration. Healing of these ulcers requires proper dressing of the ulcer(s), observing universal principles of hygiene, restoration of adequate vascularity, control of infection, good metabolic control including glycemia and lipids, cessation of smoking, weight reduction and offloading of the ulcerated area but offloading remains the most important of all. Many methods of offloading are available currently but Total Contact Casting (TCC) is known to be the gold standard of offloading but is used only in 1.7% clinics in US owing to its cost, needing specially trained personnel to apply and remove and consuming too much of time in its application and removal. Removable Cast Walkers (RCWs) are the measure of choice since they cost lesser than TCC, can be applied and removed by anyone and offer comparable offloading and hence ulcer healing. Other options such as Custom Foot wear, half shoes, ankle arthroses and Internal Offloading measures such as metatarsal head resection are sparingly used even in developed countries. rnIn developing countries most of the offloading methods are either unaffordable or unavailable, with the result that offloading is neglected by most physicians. The team of physicians at LK Diabetes Centre, Lucknow, India, have researched and developed an altogether new offloading device, called the "Samadhan System of Offloading," which is very affordable, costing lesser than 1 USD, simple, needing no special training for its application and removal, least time consuming, having both removable (SS-R) and irremovable versions (SS-IR) and efficacious too. The Samadhan System comprises of a rubberized foam cylinder, the "Samadhan Unit," to be placed on plantar surface to offload body weight, a piece of an elastocreppe bandage, the "retainer" to retain the Samadhan Unit in position and a fastening device, the "fasteners" to retain the edge of the retainer. In one of the oral abstracts, presented in American Diabetes Association, 2005 (OR 199), the Removable version of Samadhan System (SS-R) revealed much better healing rates of Wagner grade 1 diabetic foot wounds, compared to common footwear 73.3% vs 13.3% with much lesser healing time (42 vs 60 days).
Keynote Forum
North South University, Bangladesh
Time : 9:35-10:15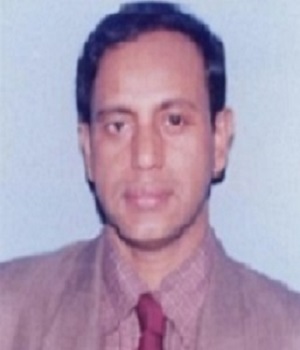 Biography:
J M A Hannan is a Professor and founding Chairman of the Department of Pharmaceutical Sciences at North South University, Dhaka, Bangladesh. He is also a visiting Professor of Department of Pharmacy, Jahangirnagar University, Dhaka and Department of Public Health, NSU. Formerly he was Senior Research Officer in the Department of Pharmacology, BIRDEM, and Dhaka. He was awarded PhD in Pharmacology from University of Ulster, UK. He has published over hundred scientific articles in reputed local and international journals and presented his research findings at various international seminars.
Abstract:
The hypoglycemic effect of Spirulina has previously been reported in rats and humans. In this study, the effects of the plant extracts were evaluated on insulin secretion together with exploration of their mechanisms of action in isolated perfused rat pancreas. Extrapancreatic action of the plant extract was also evaluated in nondiabetic and diabetic rats. The ethanolic extract was fractionated using hexane, chloroform, ethylacetate and butanol. Extract and fractions were dissolved in KRB solution and perfused, via a cannula into the aorta, to the celiac and mesenteric arteries of pancreas. Insulin in the effluent (collected from the portal vein at 1ml/min) was measured by ELISA. For the studies on the mechanism underlying the insulin secretory activity, the extract and fractions with or without 11 mM glucose, 50 µM verapamil, 300 µM diazoxide were used. Effects of the extract on glucose absorption were evaluated by using an intestinal perfusion technique and measurement of unabsorbed sucrose in the gut. The extract showed significant hypoglycemic activity in fasting as well as postprandial state in the glucose-fed type 2 rats. The extract produced 10 fold increase in insulin secretion from perfused pancreas (p<0.01). Three fractions (ethylacetate, butanol and aqueous) stimulated insulin secretion 7-10 fold. Inhibition of extract/fraction-induced insulin release was observed with diazoxide and verapamil. Extract also showed significant effect in the inhibition of glucose absorption in the gut (p<0.01). These findings reveal that extract and fractions of S. platensis exert stimulatory effects on insulin secretion mediated through physiological insulinotropic pathways. It also shows effective in the inhibition of carbohydrate absorption in the gut.