Day 2 :
Keynote Forum
Head, Cardio Centrum Berlin, Germany
Time : 09:05-09:40

Biography:
Prof. Dr. Roland Hetzer has completed his cardiothoracic surgery training in Hannover Medical School, Germany and in Stanford University, California. He performed the first heart transplantation in Hannover in 1983 and the first pediatric heart transplantation in Germany in 1985. Since 1986 he has been Professor of Surgery of the Free University of Berlin and then of the Charité and from January 1986 to September 2014 he was Medical Director and Chairman of the Deutsches Herzzentrum Berlin. He and his team performed more than 1900 heart transplantations and more than 2300 implantations of mechanical circulatory support systems. He has made numerous original contributions in the field of cardiothoracic and vascular surgery particularly in surgical treatment of end-stage heart failure and valve surgery. From 1998 to 2016 he also served as Medical Director of Herzzentrum Cottbus. Presently, his clinical work is at the Cardio Centrum Berlin.
Abstract:
Heart failure has a rapidly increasing incidence in both men and women and is the most prominent heart disease in the elderly. This is due to the successful treatment of acute heart disease which later on turns into chronic failure. Whereas pharmaceutical and electrophysiological concepts have been constantly improved, end-stage heart failure has been approached by various surgical procedures.
The majority of cases depends on ischemic heart disease which we described as LOCIMAN (Left heart failure, Occlusion of the Coronary artery, Incompetence of Mitral valve and Left ventricular Aneurysm or Akinesia). It appears to be mandatory to evaluate the relative contribution of these components to heart failure and the relative importance of surgical procedures (coronary bypass, mitral valve repair and aneurysmectomy) for cardiac improvement.
These procedures play a major role in less than profound heart failure. In such cases, various external support procedures were introduced which mostly have been abandoned as well as the partial ventricular resection procedure (Batista).
Neither external restraint procedures have not fulfilled the expectations nor myocardial regeneration and stem cell application.
Heart transplantation is now a well-established treatment for end-stage heart failure, enabling a high degree of physical rehabilitation and a mean survival time of 12 to 14 years. Some of our patients are now living for more than 30 years after transplantation. However, heart transplantation is an option offered to only few patients due to limited availability of donor organs.
Mechanical circulatory support systems have achieved clinical application during the last 30 years. Between 1987 and 2014, more than 2300 ventricular assist devices have been implanted in Berlin to keep patients alive, after which there were three options: bridge to transplantation, bridge to myocardial recovery in myocarditis and in cardiomyopathy, first demonstrated by pump explantation and long-term stability in Berlin in 1995, and as permanent implants.
Originally these ventricular assist devices were extracoporeal connected to large driving units. Thereafter, electrical pulsatile systems were introduced; however, these were noisy and bulky. In 1998, the author implanted the first rotary blood pump with continuous flow (MicroMed DeBakey) worldwide. Such systems, which are small and silent, have become the standard in now 90% of cases. These pumps also qualify for long-term use (up to 10 years). They are developed to support the left ventricle; however, they can be also implanted in the right ventricle when necessary. Moreover these systems are very useful in elderly patients.
Pulsatile extracorporeal systems, i.e. Berlin Heart EXCOR Pediatric, are the only one available for end-stage heart failure in infants and young children.
Complete myocardial recovery has been observed with ventricular assist device support in acute myocarditis and even in dilative cardiomyopathy.
The only available total artificial heart is the CardioWest pneumatic system. However, there are some experimental total artificial heart developmental projects going on in Germany, in France and in USA.
Table 1: Surgical options in advanced cardiac failure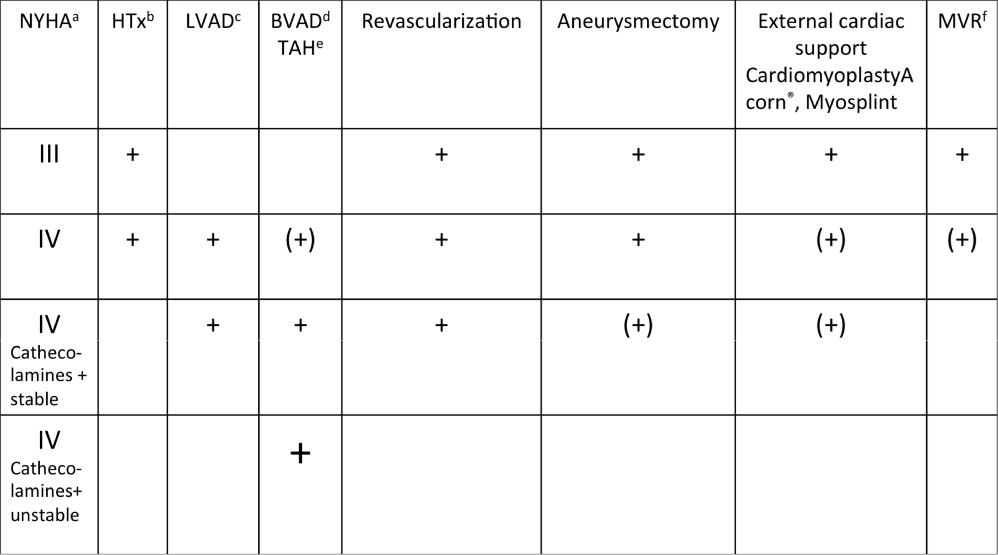 aNYHA=New York Heart Association; bHTX=Heart transplanttation; cLVAD=Left ventricular assist device; d BVAD=biventricular assist device; eTAH=Total artificial heart; f MVR=Mitral valve repair
Recent Publications:
Hetzer R, Delmo Walter EM. Mechanical Circulatory Support Devices - In Progress. N Engl J Med. 2017 Feb 2;376(5):487-489.
Hetzer R, Kaufmann MEng F, Potapov E, Krabatsch T, Delmo Walter EM. Rotary Blood Pumps as Long-Term Mechanical Circulatory Support: A Review of a 15-Year Berlin Experience.Semin Thorac Cardiovasc Surg. Spring 2016;28(1):12-23.
Hetzer R, Kaufmann F, Delmo Walter EM. Paediatric mechanical circulatory support with Berlin Heart EXCOR: development and outcome of a 23-year experience. Eur J Cardiothorac Surg. 2016 Aug;50(2):203-10.
Hetzer R, Solowjowa N, Siniawski H, Delmo Walter EM. Posterior annulus shortening increases leaflet coaptation in ischemic mitral incompetence: a new and valid technique. Ann Cardiothorac Surg. 2015 May;4(3):238-48.
Delmo Walter EM, Hetzer R. Surgical treatment concepts for heart failure. HSR Proc Intensive Care Cardiovasc Anesth. 2013;5(2):69-75.
Keynote Forum
Professor of Medicine, Chicago Medical School, USA
Time : 09:40-10:15

Biography:
Dr. Rohit Arora is currently Professor of Medicine and Professor of Physiology and Biophysics, Chicago Medical School, Chicago, Illinois where he is also Chairman of Cardiology and Vice- Chairman of Medicine, Department of Medicine. He is also Chairman of Medicine and Chief of Cardiology at the Principal Teaching Hospital at the James Lovell FHCC, North Chicago IL. Previously, he was Chief of Cardiology at UMDNJ and Director of Interventional Cardiology and Catheterization Laboratory, New Jersey, and Director of Critical Cardiology, and Director of Cardiac Care Units at Columbia Presbyterian Medical Center, at Columbia University in New York. Dr. Arora's residency training was at the Mount Sinai School of Medicine, New York, with a fellowship at Mount Sinai Medical Centre in New York, Nuclear cardiology fellowship also at Mount Sinai, Interventional fellowship at the Cleveland Clinic Foundation, Cleveland, Ohio. He does lectureship in thrombosis and vascular disease at Montefiore Medical Centre/Albert Einstein School of Medicine, NY. Dr Arora's research interests include thrombosis, refractory angina, EECP, lipids, vascular biology of the endothelium, interventional, and preventive cardiology. He has authored or co-authored more than five hundred papers and abstracts, and is the recipient of numerous awards & honors. Dr Arora is on the editorial board of numerous medical journals, and was the editor of Heart International. He has co-authored a textbook on Clinical Autonomic Dysfunction, available on Amazon, by Springer. He is nominated to the FDA device panel for devise and radiological devices. He has performed pioneering studies in refractory angina and Enhanced External Counter-pulsation.
Abstract:
Background: Multiple studies demonstrate increased Thrombosis in Myocardial Infarction (TIMI) frame count (cTFC) among tobacco smokers (TS) even in the absence of epicardial coronary artery disease (CAD), suggestive of coronary microvascular dysfunction (MD). Among those patients who present with chest pain and a positive stress test, we hypothesize that the extent of MD is larger among TS when compared to non-smokers (NS).
Method: In this retrospective study, patients who underwent coronary angiogram for chest pain with a positive stress test were grouped into TS and NS. Among these, those who were free of a significant CAD, vasospasm or recent myocardial infarction were randomly chosen: 82 TS and 127 NS. Presence of coronary MD was assessed using cTFC and TIMI perfusion grade (TMPG).
Results: At baseline, TS were significantly younger compared to NS (mean age in years 50.2 vs 58.56, p<0.0001) with significantly more females in the NS group. The cTFC and TMPG for left anterior descending, left circumflex and right coronary arteries though significantly higher in both groups, when compared to published normals, there was no significant difference observed. Additional sub-group analysis for gender and age (<50 years and ≥50 years) also did not demonstrate any significant differences. Furthermore, among patients with no history of hypertension, diabetes mellitus and hyperlipidemia, no significant differences were observed between the two groups.
Conclusion: Increased cTFC in both the groups indicates increased coronary microvascular resistance suggesting MD, which may be the reason for a positive stress test. This study demonstrates that among patients presenting with chest pain and a positive stress test, in the absence of significant epicardial CAD, tobacco smoking does not further increase MD.
Recent Publications:
Crea F, Camici PG, Bairey Merz CN.Coronary microvascular dysfunction: an update.Eur Heart J. 2014 May;35(17):1101-11. doi: 10.1093/eurheartj/eht513.
The TIMI Study Group. The Thrombolysis In Myocardial Infarction (TIMI) trial. N Engl J Med. 1985;31:932–936.
Gibson CM, Cannon CP, Murphy SA, et al. Relationship of TIMI Myocardial Perfusion Grade to Mortality After Administration of Thrombolytic Drugs. Circulation. 2000;101:125.
Gibson CM, Cannon CP, Daley WL, et al. TIMI Frame Count. Circulation. 1996;93:879-888.
Erbay, Ali Riza et al. "Documentation of slow coronary flow by the thrombolysis in myocardial infarction frame count in habitual smokers with angiographically normal coronary arteries." Heart and Vessels 19 (2004): 271-274.
Break:
Network & Refreshment Break: 10:15-10:30 @ Lobby
Keynote Forum
Assistant Professor, Harvard Medical School, USA
Time : 10:30-11:05

Biography:
Antonis A. Armoundas was born in Mytilini, Greece. He received the B.S. degree in electrical engineering from National Technical University of Athens, Athens, Greece, in 1991 and the M.S. degree in biomedical engineering from Boston University, Boston, MA, in 1994. He received the Ph.D. degree in nuclear engineering, from the Massachusetts Institute of Technology (M.I.T.), in 1999. He has been an American Heart Association sponsored Postdoctoral Fellow at the Division of Molecular Cardiobiology and the Department of Biomedical Engineering at Johns Hopkins University. Today he is a National Institute of Health supported Principal Investigator at Massachusetts General Hospital and an Assistant Professor at Harvard Medical School, while he maintains an appointment at M.I.T. He has authored more than 80 high-impact peer-reviewed journal articles and book chapters, and he also holds 6 patents. His research interests include biomedical signal processing, forward and inverse problem solutions, and cellular electrophysiology methods (experimental and modeling).
Abstract:
Background: This study investigates the spatio-temporal variability of intracardiac repolarization alternans (RA) and its relationship to arrhythmia susceptibility in a swine acute myocardial ischemia (MI) model.
Methods and Results: We developed a real-time multi-channel repolarization signal acquisition, display and analysis system to record electrocardiographic signals from catheters in the right ventricle, coronary sinus and left ventricle prior to and following circumflex coronary artery balloon occlusion. We found that RA is detectable within 4 minutes following the onset ischemia, and is most prominently seen during the first half of the repolarization interval. We developed a novel, clinically-applicable intracardiac lead system based on a triangular arrangement of leads spanning the right ventricular (RV) and coronary sinus (CS) catheters which provided the highest sensitivity for intracardiac RA detection when compared to any other far-field bipolar sensing configurations (p < 0.0001). The magnitude of RA was used to adjust pacing stimuli delivered during the absolute refractory period (ARP) aimed to reduce RA. We found that the pacing pulse polarity and the phase polarity are sufficient parameters to suppress RA. To calibrate the pacing stimuli, we estimated the required charge to induce one µV [one unit] change in the alternans voltage [and Kscore] on CS and LV leads as 0.05 ± 0.025 [0.32 ± 0.29] and 0.06 ± 0.033 [0.33 ± 0.37] µC, respectively. Using this approach, we demonstrated the ability to suppress spontaneous RA following acute MI. Overall, pacing during the ARP resulted in a significant decrease in alternans voltage and Kscore and reduced arrhythmia susceptibility (p<0.01).
Conclusions: RA can be reliably detected through a novel triangular RV-CS lead configuration. Electrical stimulation during the ARP can be used to suppress RA, in vivo. Our findings may have important implications in developing methods to prevent the onset of ventricular arrhythmias.
Recent Publications:
Armoundas AA, Hohnloser SH, Ikeda T, Cohen RJ. Can microvolt t-wave alternans testing reduce unnecessary defibrillator implantation? Nat Clin Pract Cardiovasc Med. 2005;2:522-528.
Armoundas AA, Tomaselli GF, Esperer HD. Pathophysiological basis and clinical application of t wave alternans. JACC. 2002;40:207-217.
Merchant FM, Armoundas AA. Role of substrate and triggers in the genesis of cardiac alternans, from the myocyte to the whole heart: Implications for therapy. Circulation. 2012;125:539-549.
Merchant FM, Ikeda T, Pedretti RF, Salerno-Uriarte JA, Chow T, Chan PS, Bartone C, Hohnloser SH, Cohen RJ, Armoundas AA. Clinical utility of microvolt t-wave alternans testing in identifying patients at high or low risk of sudden cardiac death. Heart Rhythm. 2012;9:1256-1264 e1252.
Shusterman V, Goldberg A, London B. Upsurge in t-wave alternans and nonalternating repolarization instability precedes spontaneous initiation of ventricular tachyarrhythmias in humans. Circulation. 2006;113:2880-2887.
Weiss EH, Merchant FM, d'Avila A, Foley L, Reddy VY, Singh JP, Mela T, Ruskin JN, Armoundas AA. A novel lead configuration for optimal spatio-temporal detection of intracardiac repolarization alternans. Circ Arrhythm Electrophysiol. 2011;4:407-417.
Armoundas AA, Albert CM, Cohen RJ, Mela T. Utility of implantable cardioverter defibrillator electrograms to estimate repolarization alternans preceding a tachyarrhythmic event. J Cardiovasc Electrophysiol. 2004;15:594-597.
Sayadi O, Puppala D, Ishaque N, Doddamani R, Merchant FM, Barrett C, Singh JP, Heist EK, Mela T, Martinez JP, Laguna P, Armoundas AA. A novel method to capture the onset of dynamic electrocardiographic ischemic changes and its implications to arrhythmia susceptibility. J Am Heart Assoc. 2014;3.
Sayadi O, Merchant FM, Puppala D, Mela T, Singh JP, Heist EK, Owen C, Armoundas AA. A novel method for determining the phase of t-wave alternans: Diagnostic and therapeutic implications. Circ Arrhythm Electrophysiol. 2013;6:818-826.
Merchant FM, Sayadi O, Moazzami K, Puppala D, Armoundas AA. T-wave alternans as an arrhythmic risk stratifier: State of the art. Curr Cardiol Rep. 2013;15:398.
Merchant FM, Sayadi O, Puppala D, Moazzami K, Heller V, Armoundas AA. A translational approach to probe the proarrhythmic potential of cardiac alternans: A reversible overture to arrhythmogenesis? Am J Physiol Heart Circ Physiol. 2014;306:H465-474.