Day 3 :
Keynote Forum
Ambroise-Pare Hospital, France
Time : 10:00-10:40

Biography:
Daniel Lichtenstein is a Medical Intensivist working at Ambroise-Paré Hospital (Paris-West, France) since 1989 and he is a visiting Professor. His main developments are: Use of critical ultrasound since 1985, defined in 1991 as a discipline associating ultrasound diagnoses and immediate therapies, with adjunct uses. He has published several articles, mostly focused on Lung and Venous Ultrasound, including: BLUE-protocol (acute respiratory failure), FALLS-protocol (lung ultrasound for management of acute circulatory failure), SESAME-protocol (cardiac arrest), lung ultrasound in critically ill neonates.
Abstract:
The diagnosis of hemodynamic pulmonary edema, sometimes difficult, usually requires irradiating techniques or indirect approaches (echocardiography, BNP), which are time-consuming. The BLUE-protocol proposes lung ultrasound as a direct diagnosis. What is required is a simple, gray-scale unit; a wide range (up to 17 cm) micro convex probe, the best for scanning together lungs and veins (and heart plus whole body). The B-line is the basis for the diagnosis, a certain kind of comet-tail artifact strictly defined for avoiding confusions. The B-profile is defined, in a supine or semi-recumbent patient, by anterior, bilateral and multiple B-lines, associated with a conserved lung sliding. This profile is called the B-profile. For the diagnosis of hemodynamic pulmonary edema, regardless any echocardiographic data, regardless the quality of a cardiac window, the B-profile has a sensitivity of 97%, and a specificity of 95%. The BLUE-protocol should be used first in a dyspneic patient, in order to see the reality of the pulmonary edema. Then, the patient can be treated accordingly. A test showing the origin of this edema is asked in a second step, calling an expert echo-cardiographist. The BLUE-protocol also allows, by an exclusive scanning of the lung and (when required) the veins, an accurate diagnosis of the other most frequent acute lung diseases: pneumonia, pulmonary embolism, exacerbated COPD, severe asthma and pneumothorax, using 7 other profiles (called A-profile, A'-profile, B'-profile, A/B-profile, C-profile). These profiles allow frequently or confidently differential diagnoses of hemodynamic pulmonary edema, such as pneumonia, pulmonary embolism, COPD. All in all, when using the BLUE-protocol wisely, i.e., surrounded by the clinical information and a few, basic tests, the diagnosis, positive or negative, of hemodynamic pulmonary edema is usually done confidently. Many subtleties (associated lung diseases, difficulties of diagnoses using too modern equipment (which destroy artifacts) are not dealt within this volume.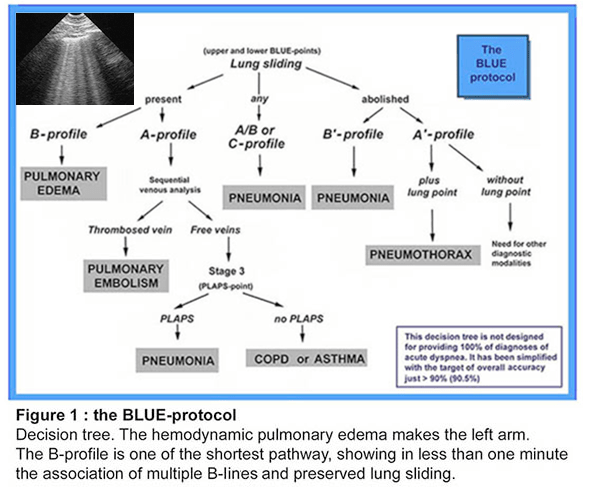 References:
(2008) Lung ultrasound in acute respiratpry failure : the BLUE-protocol. Chest 134:117-125.
(1998). A lung ultrasound sign allowing bedside distinction between pulmonary edema and COPD: the comet-tail artifact. Intensive Care Medicine 24:1331-1334
(1994) Diagnostic échographique de l'œdème pulmonaire (Lettre à la rédaction). Revue d'Imagerie Médicale 6:561-562.
(2016) Lung Ultrasound in the Critically Ill – the BLUE-protocol. Springer-Verlag, Heidelberg, pp 181-185
(2004) van der Werf TS, Zijlstra JG. Ultrasound of the lung: just imagine. Intensive Care Med 30:183-184
Break:
Network & Refreshment Break: 10:40-10:55 @ Foyer
Cardiovascular Risk| Rheumatic Heart Disease | Coronary Artery Bypass | Case Reports on Cardiology | Hypertension
Location: Amphi Theatre
Chair
Guy Hugues Fontaine
Universite Pierre et Marie Curie & La Salpetriere Hospital, France

Co-Chair
Reda Biomy Mohamed
Benha University, Egypt
Session Introduction
University of Verona, Italy
Time : 10:55-11:20

Biography:
Anna Fratta Pasini is the Assistant Professor of Internal Medicine at University of Verona Medical School, Verona, Italy. She completed her MD degree at University of Verona. She is Board Certified Specialist in Gastroenterology at University of Verona and Board Certified Specialist in Endocrine Diseases at University of Verona. She is currently a board member of Verona University. She is the Editorial Board Member of Journal of Cardiology and Therapeutics and Journal of Geriatric Cardiology.
Abstract:
Endoplasmic reticulum (ER) stress is an adaptive mechanism that arises when excessive newly synthesized and/or misfolded polypeptides in the ER lumen exceed its protein folding capacity in response to multiple cellular stress triggers such as oxidative stress, hypoxia and hyperglycemia. The accumulation of unfolded/misfolded proteins activates transcriptional and translational pathways, known as the unfolded protein response (UPR), an adaptive response that helps cell survival by activating a series of intracellular signaling pathways. When the UPR fails to control the level of unfolded/misfolded proteins, ER-initiated apoptotic signaling is induced. Several studies have demonstrated that ER stress occurred in atherosclerotic plaques, particularly in the advanced stages. In addition, ER stress has an important role in cardiac hypertrophy mainly in the transition to heart failure. Interestingly, chronic UPR activation has also been observed in obesity and in diabetes. Oxidative stress that plays a key role in cardiovascular and metabolic disease is counterbalanced by complex antioxidant defense systems regulated by a series of multiple pathways, including the UPR, to ensure that the response to oxidants is adequate. Nuclear factor-E2-related factor (Nrf2) is an emerging regulator of cellular resistance to oxidants; Nrf2 is strictly interrelated with the UPR sensor called pancreatic endoplasmic reticulum kinase. Interventions against ER stress and Nrf2 activators seem to reduce myocardial infarct size and cardiac hypertrophy in animals and to protect against obesity and insulin resistance. These evidences may open new promising therapeutic approaches in chronic cardiovascular and metabolic diseases.
References:
Ron D. Nat Rev Mol Cell Biol 2007; 8:519
Back SH, Annu Rev Biochem 2012; 81:767
Wang S, J Cell Biol 2012; 197:857
Tabas I. Circ Res 2010; 107: 839
Garbin U, Fratta Pasini A, Antiox & Redox Signal 2014; 21:850
Cominacini L, Fratta Pasini A. Free Radic Biol Med 2015; S0891
Pagliassotti MJ, Metabolism 2016; 65:1238
Mozzini C, Fratta Pasini A, Free Radic Biol Med 2014; 68:178
Singh S,Free Radic Res 2010;44:1267
Digaleh H, Cell Mol Life Sci 2013; 70:4681
Seo HA, Oxid Med Cell Longev. 2013; 2013:184598
Benha University, Egypt
Time : 11:20-11:45

Biography:
Reda Biomy completed his Graduation at Benha University, Egypt and MD in Cardiology 1992. In 1995, he worked as an Associate Professor of Cardiology at Benha University, Egypt and he was responsible for non-invasive cardiology lab and cardiac catheterization lab.
Abstract:
Introduction: Balloon angioplasty has been proposed as an alternative way to surgery in primary treatment of aortic coarctation (CoA) for both children and infants.
Objective: The purpose of this study is to assess the immediate and intermediate term effectiveness and safety of balloon angioplasty in infants and children with native discrete membranous CoA.
Patients & Methods: 40 consecutive patients with native discrete coarctation of the aorta were treated with balloon angioplasty. They were eight infants and 32 children; with ages ranged from two months to 10 years and all weighted below 35 Kg. All patients were clinically evaluated immediately after and at six to 12 months and 18 to 24 months after the procedure. Follow up data were collected and Doppler echocardiography was done before intervention to confirm diagnosis and to plan management and post interventional to follow-up patients and estimate the outcome and complications.
Results: Immediate successful relief of native CoA was obtained in 92.5% of the population study, while 7.5% recorded immediate suboptimal results with pressure gradient above 20 mm HG. The peak systolic gradient across the coarcted segment was reduced significantly with 82.5% immediately after balloon angioplasty, 75% and 73.2% at the end of first and second follow up period respectively. Pressure gradient decreased significantly from 57±15.7 mm Hg before balloon angioplasty to 14.23±11.30 mm Hg 9 to 12 months after, but it was increased slightly to reach 15.15±11.80 mm Hg at the end of the second year. The systolic ascending aortic pressure decreased significantly (19%) and the systolic descending aortic pressure increased significantly (11.4%) at the end of the study. Recoarctation occurred in 17.5% at the end of the 1st year and balloon angioplasty was repeated for all patients successfully. At the end of the 2nd year, restenosis was evidenced in 10% of the whole study population at the site of coarcted segment occurred in 5%.
Conclusion: Balloon angioplasty is an effective and safe alternative to surgery for treatment of CoA in infants older than two months and children10 years of age or younger.
Louis Pradel Cardiology Hospital of Lyon, France
Time : 11:45-12:10

Biography:
Pr. Philippe Chevalier, MD PhD is the head of the Rhythmology unit of HCL and the coordinator of the National Reference Center for inherited arrhythmia. He is an internationally recognized clinical expert in the field of cardiac arrhythmias. He has been implicated in more than 10 clinical studies. He is the principal investigator and coordinator of a European multicenter study on molecular markers of sudden death. He develops fundamental studies on the pathophysiology of AF. He organized every year the national congress of "les journées de rythmologie" in Lyon. Regularly invited to international cardiology congress, he is also a member of several societies (French Society of Cardiology, American Heart Association). His research led him to be present in more than 200 publications in refereed journals.
Abstract:
Statement of the Problem: Atrial fibrillation (AF) is a common arrhythmia with a well-recognized inherited component. Until now, AF genetic studies mainly focused on the genes involved in electrical remodeling, rather than left atrial muscle remodeling.
Methodology: A high-throughput next-generation sequencing (NGS) workflow was developed based on a custom AmpliSeq™ panel of 55 genes potentially involved in atrial myopathy. This workflow was applied to a cohort of 94 patients with AF, 66 with atrial dilatation and 28 without. Patients with variants in the selected genes underwent further screening for pathogenic mutations in prevalent arrhythmia-causing genes. Bioinformatic analyses used a pipeline based on NextGENe® software and in silico tools for variant interpretation.
Findings: Our AmpliSeq™ custom-made panel efficiently explored 96.58% of the targeted sequences. Based on in silico analysis, 11 potentially pathogenic missense variants were identified that were not previously associated with AF. These variants were located in genes involved in atrial tissue structural remodeling. Three patients were also carriers of potential variants in prevalent arrhythmia-causing genes, usually associated with AF. Most of the variants were found in patients with atrial dilatation (n=9, 82 %).
Conclusion & Significance: This NGS approach was a sensitive and specific method that identified 11 potentially pathogenic variants, which are likely to play roles in the predisposition to left atrial myopathy. Functional studies are needed to confirm their pathogenicity.
Session Introduction
Russian New University, Russia
Time : 12:10-12:25

Biography:
Vladimir Ermoshkin completed his Graduation in Physics department at Moscow State University in 1978. He has worked at Russian New University (RosNOU) as Physicist. He has published 10 articles on Cardiology in prominent magazines (Russian and English).
Abstract:
Goal: An attempt to study the mechanism of metabolic syndrome.
Methods: Information search in the literature, participate in conferences, discussions with Russian leading cardiologists.
Results: Metabolic syndrome (MetS) is defined by a constellation of interconnected physiological, biochemical, clinical, and metabolic factors that directly increases the risk of cardiovascular disease and all cause mortality. Visceral adiposity, atherogenic dyslipidemia, endothelial dysfunction, genetic susceptibility, elevated blood pressure, hypercoagulable state, insulin resistance and chronic stress are the several factors, which constitute the syndrome. In my opinion, the researchers forgot to take into consideration a physical factor in the development of the metabolic syndrome. It is precisely the factor of gravity of the Earth which influence in the absence of regular physical exertion on the muscles of the lower half of the body, insufficiency of respiratory loads on the lungs and, most importantly, on the diaphragm. Previously, it was justified that large arteriovenous anastomoses (AVA) can be opened in a person under stress, high blood pressure (HBP), sedentary lifestyle and excessive nutrition. Increased pressure in the vena cava can lead to mechanically induced arrhythmias. The opening and closing of the AVA is characterized by jumps in the blood pressure as follows: first a sharp drop, then a smooth rise in 2-5 seconds. But the main factor leading to MetS is a constant useless leakage of arterial blood, an increase in the volume and pressure of venous blood, stagnation of blood in the depot. Frequent increases in venous pressure over time can lead to damage to venous valves, a lack of a pressure gradient between arterioles and venules in some organs. This deficiency in the erectile man due to gravity, especially at the initial stage, occurs mostly in the pelvic area and in the legs. It leads to stagnations, edemas, varicose. In response to such circulatory disturbances, blood contamination and violations of lymph movement, the body begins unsuccessful global neuro-humoral adjustments, but the situation most often does not improve, but worsens. Over time, MetS results in comorbidity of the disease and death from any of the causes associated with CVD.
Conclusions: Let's consider that the proposed New Theory is still a hypothesis or an open problem. It is necessary to conduct a number of experiments, including with artificial AVA, for a data set to confirm or refute the new MetS hypothesis. If the proposed hypothesis proves to be correct, then the prevention and treatment of CVD can take a different path of development.
Break:
Lunch Break: 12:25-13:25 @ N Café
Chair
Guy Hugues Fontaine
Universite Pierre et Marie Curie & La Salpetriere Hospital, France
Session Introduction
Central Michigan University, USA
Time : 13:25-13:45

Biography:
Manjit K Bhandal is a second year MD student at Central Michigan University College of Medicine. Her primary interest in medicine is Cardiology in which she has several years of pre-clinical experience and is now conducting several studies in various aspects of the field. These studies include the present cardio-oncology study, outcomes of femoral artery catheterization in patients with US versus palpation techniques, as well as studying the outcomes of diabetic heart failure patients implanted with CardioMEMS.
Abstract:
Statement of the Problem: Pulmonary artery intimal sarcoma (PAIS) is a rare, aggressive tumor often diagnosed at autopsy. Presentation often involves the main pulmonary arteries and pulmonary valves with resultant pulmonary embolism and chronic thromboembolic pulmonary hypertension leading to the misdiagnosis of pulmonary embolic disease. Due to the paucity of data on the clinicopathologic features of disease in PAIS, the aim of this study was to combine a clinical case report with comprehensive review of literature with meta-analysis to increase awareness and facilitate clinical recognition of PAIS.
Methods: Clinical information was collected regarding tumor site, size, location, extension, patient presentation signs and symptoms, imaging data, disease recurrence, distant metastasis, and overall survival. Progression-free survival, distant-metastasis free survival, and disease-specific survival curves and estimates were calculated using the Kaplan-Meier method with univariate and multivariate analyses of prognostic variables calculated using Cox proportional hazards model.
Results: Kaplan-Meier survival plots did not indicate statistically significant correlations between mean survival and tumor location; however, metastasis and tumor recurrence showed statistical significance in correlation with mean survival time (P=0.21, P=0.31 respectively). Chi-square values indicated tumor location in the pulmonary valve and aorta were significant factors in mean survival time (P=0.004, P=0.23 respectively), as well as metastasis and tumor recurrence (P=0.003, P=0.001 respectively). The clinical case is of a 53-year-old woman with recurrent pulmonary emboli, claudication of legs, dyspnea and hemoptysis whom was later discovered to have a large (12.0x6.5x5.0 cm) intravascular lung pulmonary artery intimal sarcoma with satellite pulmonary metastases. Tumor cells showed immunohistochemical phenotypic expression of MDM2 and fluorescence in situ hybridization amplification of MDM2.
Conclusion & Significance: PAIS is a rare tumor type, clinicians treating patients for suspected PE that is refractory to anti-coagulant or thrombolysis therapy should have a high level of clinical suspicion for PAIS to improve outcomes.
Figure 1: PAS is subdivided into intimal and intramural sarcomas. Intimal sarcomas are further classified as fibroblastic/myofibroblastic differentiation with several
different subtypes. The four most common are listed here. In this paper, we focus on malignant fibrous histiocytomas, also referred to as high grade spindle cell
sarcoma, or undifferentiated pleomorphic sarcoma (UPS).
References:
Chen D, Zhu G, Wang D, Zhang Z, Fang W, Qu Z. Clinicopathological and immunohistochemical features of pulmonary artery sarcoma: A report of three cases and review of the literature. Oncol Lett. 2016;11(4):2820-2826.
Chen X, Ren S, Li A, Zhou C. A case report of chemo-sensitive intimal pulmonary artery sarcoma. Cell Biochem Biophys. 2014;68(1):153-157.
Dornas AP, Campos FT, Rezende CJ, Ribeiro CA, Amaral NF, Correa Rde A. Intimal sarcoma of the pulmonary artery: a differential diagnosis of chronic pulmonary thromboembolism. J Bras Pneumol. 2009;35(8):814-818.
Fukuda W, Morohashi S, Fukuda I. Intimal sarcoma of the pulmonary artery--diagnostic challenge. Acta Cardiol. 2011;66(4):539-541.
Kerr KM. Pulmonary artery sarcoma masquerading as chronic thromboembolic pulmonary hypertension. Nat Clin Pract Cardiovasc Med. 2005;2(2):108-112; quiz 113.
Betsi Cadwaladr University Health Board, UK
Time : 13:45-14:05

Biography:
Amjed Eljaili, MBBS October 2010, University of Al-Zaiem Al-Azhari, Sudan, currently practicing in UK , Wales deanery , foundation year-2 trainee, BCUHB, emergency department. He attended several academic meetings, regionally and nationally. He has participated in various national work-shops, congress. participation and membership with British institute of Radiology, UK.
Abstract:
Spontaneous coronary artery dissection is rare cause of acute coronary syndrome in young female in reproductive period, the mechanism is completely different from common causes of coronary artery atherosclerotic disease. It has been reported that there is a significant link with underline blood vessels disease like fibromuscular dysplasia which is rare condition affect all arteries in the body, most common affected arteries are, renal and carotid artery which characterized by thickening of arterial wall leading to stenosis. Majority of patient affected were found to be female with median age between 20 to 60. The risk increased significantly during pregnancy between 5 to 18%, this ia can be 6 weeks per-partum and post-partum but up to 18 months also reported. Extreme emotional stress and physical exercise like heavy lifting and valsalva type of activity participating in the cause of SCADAS as well. Connective tissue disease like marfan synfrom, Ehler-denlos danols syndrome, systemic lupus erytrpmtpus polyarteritis nodpsa and inflammatory bowels disease can be participator factor for SCAD. The diagnosis of SCAD is a challenge and in most cases establishment of SCAD diagnosis has to be at time of coronary angiogram, intravascular ultrasound and OCT (optical coherence) tomography and IVUS intravascular ultrasound, according to coronary angiogram findings SCAD divided into three types. The management of SCAD in majority of the patients is conservative in form of aspirin , heparin, beta-blocker and ACE inhibitor along with clopidogrel in some patients, however revascularization by PCI and CABG depending on certain specific criteria. Overall long-term prognosis of SCADA is excellent but there is high risk of recurrence, interestingly recurrence in most cases involves a new coronary artery segment therefore patient with SCAD should always be counselled about the risk of recurrence of this condition.
Airlangga University, Indonesia
Time : 14:05-14:25

Biography:
Christina Meilani Susanto is a Resident of Obstetrics and Gynecology at Airlangga University, Indonesia.
Abstract:
Causes of Maternal Mortality Rate (MMR) in Indonesia were having changes of trend. In the last three years, cardiac disease has become the second most cause of MMR after preeclampsia in our tertiary hospital. Peripartum Cardiomyopathy (PPCM) is one of cardiac disease that emerges in the last month of pregnancy or within five months of delivery in healthy women, without previous identifiable heart disease. The etiology remains unknown, but preeclampsia has been described to be a potential risk factor in the pathogenesis of the disease. Although there has been no study concerning the incidence of PPCM in Indonesia, it is well known that preeclampsia is still becoming a major issue of MMR in Indonesia. Location of study was at Dr Soetomo Hospital Surabaya, Indonesia. Data was obtained from medical record of 2843 patients within 2014-2015, divided into two groups, 19 patients with PPCM in a case group, and 2824 patients in control group. Peripartum cardiomyopathy patients had a mean age 32.21±6.83 years, whereas the mean age of control group was 29.26±6.45 (p=0.04). The incidence of PPCM in our study was quite high, about 1 per 166 live births. It was estimated that 52.63% cases were diagnosed antepartum, whereas 47.37% cases were diagnosed postpartum, with the mean ejection fraction 36.63±7.23%. It was a surprising result revealed, estimated 84.2% PPCM cases were also complicating with preeclampsia, and showing a significant difference between these two groups (p<0.05). Earlier onset of preeclampsia in our study described an earlier onset of PPCM as well, and about 81.8% babies born from PPCM mother were growth restriction babies. The mortality rate of the mother during hospitalization in our study is 15.7%. Although diagnosis of PPCM is still an exclusion diagnosis, we have to pay more attention to pregnant women complicating with preeclampsia, since preeclampsia can increase the risk of PPCM.
References:
Bello N, Rendon I, Arany Z. (2013). The relationship between pre-eclampsia and peripartum cardiomyopathy. J Am Coll Cardio; 62:1715-23
Elkayam U. (2012). Clinical characteristics of peripartum cardiomyopathy in the United States: diagnosis, prognosis, and management. J Am Coll Cardiol;58:659–70
Elkayam U. Akhter M. (2005). Pregnancy-associated cardiomyopathy clinical characteristics and a comparison between early and late presentation. Circulation;111:2050-2055
Kamiya C. Kitakaze M. (2010). Different characteristics of peripartum cardiomyopathy between patients complicated with and without hypertensive disorders. Circ J; 75:1975-1981
Sliwa K. Kleiner D. (2010). Current state of knowledge on aetiology, diagnosis, management, and therapy of peripartum cardiomyopathy: a position statement from the Heart Failure Association of the European Society of Cardiology Working Group of peripartum cardiomyopathy. European J of Heart Failure;12:767-778
Airlangga University, Indonesia
Time : 14:25-14:45

Biography:
Dibya Arfianda is a Resident of Obstetrics and Gynecology at Airlangga University, Indonesia.
Abstract:
Pregnant women with acquired heart disease could lead to fatal outcome if not properly managed. Rheumatic fever is a secondary to rheumatic heart disease that cause defect at heart valves and the most common is mitral stenosis. In first trimester of pregnancy, the cardiac output is increasing at about 50% due to hormonal change that has effect to vascular and elevated plasma in blood. These changes will directly alter to mother condition with valve defect and require prompt management. A comprehensive multidisciplinary approach is also needed in managing morbidity and mortality of RHD in pregnancy. A retrospective analysis study of pregnancies with RHD was conducted from January until December 2015 at RSUD Dr. Soetomo Surabaya, Indonesia. We have collected 1.289 medical records. Total 21 (3.2%) cases were patients with acquired heart disease. 17 (81%) cases were patients with prime gravida. More than half cases found were preterm pregnancy. Multiple valve disease which involved the mitral stenosis and other valves were the usual finding in these cases. Complications such as pulmonary hypertension, lung edema, heart failure usually found in our cases. Cesarean section was the preferred mode of delivery from all patients. Two patients died after delivering their baby (10%). We also did PTMC in two (9.5%) patients during pregnancy. Pregnancy with RHD has a great link and contribution to the increment of maternal morbidity and mortality.
References:
Chamaidi, A., Gatzoulis, M. (2006). Heart Disease and Pregnancy. Hellenic J Cardiol 47: 275-291
Gumilar, K.E., Aditiawarman, Lefi, A. (2015). Maternal outcome on pregnancy with rheumatic heart disease.
Madazli, R., Sal, V., Cift, T., Guralp, O., Goymen, A. (2010). Pregnancy outcomes in women with heart disease. Arch Gynecol obstet 281: 29-34
Pratibha, D., Devineni, K., Vemuri, U., Namani, G. (2007). Pregnancy outcome in chronic rheumatic heart disease. Journal of Obst & Gyn: 59(3),pp11-21
Silversides, C.K., Colman, J.M. (2007). Heart Disease in Pregnancy 2nd Edition. Chap-2: Physiological changes in pregnancy. Masachusetts: Blackwell publishing pp79-95.
Break:
Network & Refreshment Break: 14:45-15:00 @ Foyer